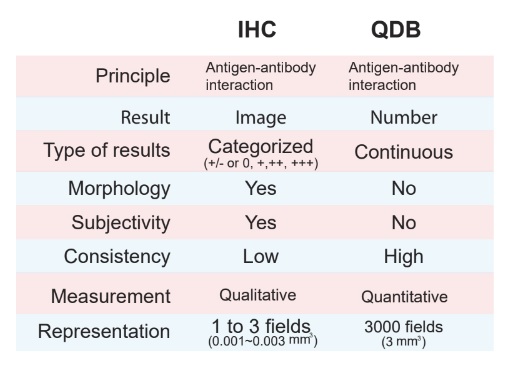 Quanticision Diagnostics Inc. is founded to provide absolutely quantitated protein biomarker levels for cancer patients with unmatched objectivity, consistency and objectivity. Using a proprietary platform of Quantitative Dot Blot (QDB) method, the company become the FIRST and ONLY company in the world to succeed in introducing immunoassays for biomarker assessment in Formalin Fixed Paraffin Embedded (FFPE) samples.
This breakthrough will have significant impact on the daily clinical practice. The introduction of QDB platform should significantly reduce the subjectivity and inconsistency associated with the current prevailing method of immunohistochemistry (IHC) , especially for local hospitals and those in developing countries. Furthermore, combined with widely available FFPE specimens stored in medical institutes and hospitals worldwide, we will finally be able to develop a growing protein biomarker database to fully evaluate the clinical significances of both individual, and groups of protein biomarkers as absolute and continuous variables at population level; and to provide personalized diagnosis and prognosis to patients based on his/her protein biomarker level(s) as absolute and continuous variables.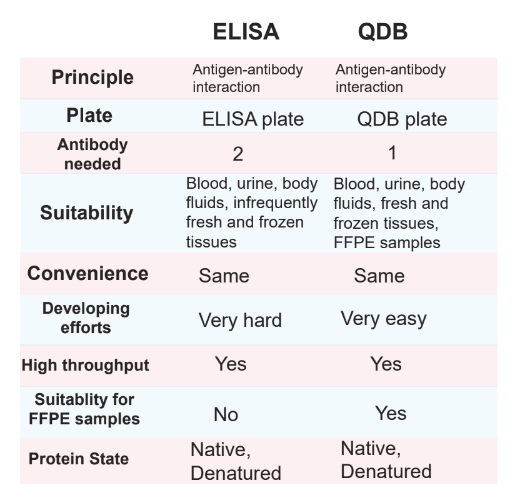 It should be emphasized that QDB is not modification of current methods of both IHC and ELISA. The image-based nature of IHC dictate its result to be relative and semi-quantitative, which cannot be circumvented by any innovation in IHC method per se, nor any efforts through computer-aided analysis. On the other hand, although ELISA is almost synonymously as immunoassay, QDB is not ELISA either, as NO ELISA (including all kinds of multiplex immunoassays) is suitable for FFPE samples.
Thus, QDB is a brand new type of immunoassay ready to be adopted in research lab and routine clinical practice worldwide. We have developed over 20 QDB-based immunoassays to measure dozens of protein biomarkers in over 1500 breast cancer samples successfully. Using these data, we have been able to develop the first 3D subtyping model for breast cancer patients. Clinical evidences support this model as a true reflection of intrinsic breast cancer subtypes at protein level.
Indeed, the QDB platform will not only make an instant impact on current clinical diagnosis practice, but open a brand new field of QUANTITIVE DIAGNOSIS where "big data" analysis will become a norm in clinical diagnostic field.
References:
Tian G, Tang F, Yang C, et al: Quantitative dot blot analysis (QDB), a versatile high throughput immunoblot method. Oncotarget 8:58553–58562, 2017
Qi X, Zhang Y, Zhang Y, et al: High Throughput, Absolute Determination of the Content of a Selected Protein at Tissue Levels Using Quantitative Dot Blot Analysis (QDB). JoVE (Journal of Visualized Experiments) e56885–e56885, 2018
Zhang W, Yu G, Zhang Y, et al: Quantitative Dot Blot (QDB) as a universal platform for absolute quantification of tissue biomarkers. Analytical Biochemistry 576:42–47, 2019